(All events at the Coronation Hall SN8 4LB unless stated.)
Please scroll down for posters and notices to find all events.
Register your email with Alton Arts for email notification of village events.
Monthly Coffee Mornings and Village Christmas Market. 
Next is Saturday 7 December
The coffee mornings and village market are usually held on the first Saturday morning of every month, in the Coronation Hall, starting at about 10.00 am to midday. The coffee morning with a village market is new idea for us - do support it and come along.  If you wish to sell or swap some home made jams, cakes, honey, marmalade, (please ensure you home made products have you contact details on the label) plants, flowers or even some Bric-à-brac do come to the Coffee Morning & Village Market. For those selling at the market a volantry contribution to the hall funds would be appreciated.  Bring your family and friends, meet your neighbours if you've yet to meet them and generally hear all the village gossip. There are always delicious cakes to go with the tea or coffee.  Open to everyone and visitors.
Please Volunteer to help with coffee mornings
Village Christmas Party - Sunday 8th December.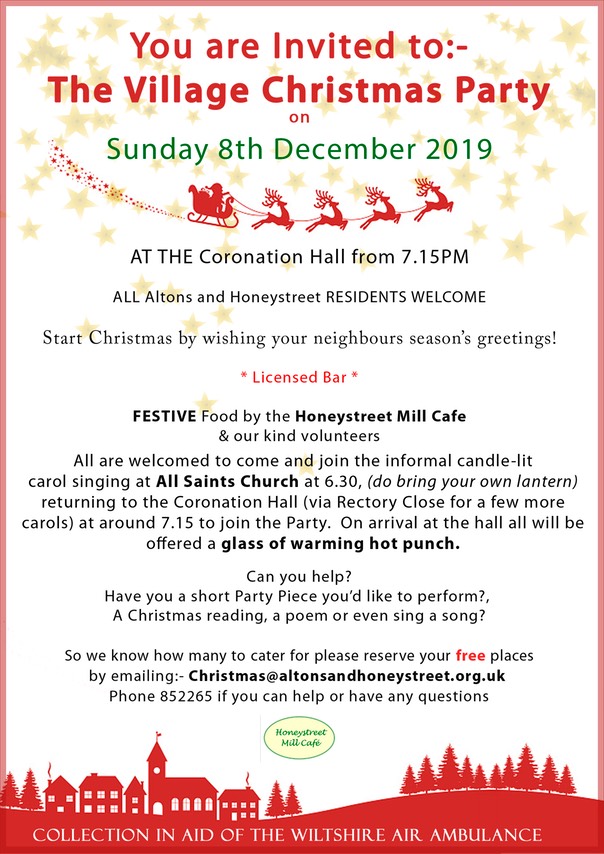 Our main social event will of course be the Christmas Party at the Coronation Hall.  Before the party all are welcome to come and join in informal candle-lit carol singing at All Saints Church at 6.30,(bring your own lantern)  returning to the Hall (via Rectory Close) at around 7.15 to join the in party. On arrival at the hall all will be given a glass of warming hot punch. There will also be a licensed bar during the evening.  Once again, The Honeystreet Mill cafe is helping with food and service but   any homemade Christmas puddings and mince pies and donations for the raffle are all most welcome. We would love to hear from anyone brave enough to stand up and do a party piece - perhaps a Christmas reading, a song, a Christmas poem, play an instrument or help to decorate the hall the day before.  All contributions and offers of  help are most welcome. Entry is FREE to everyone in the village, but to get an idea of catering numbers, please book your ticket requirements by emailing christmas@altonsandhoneystreet.org.uk or contacting Robert on 852265.  
2020
Friday 24 April. Coronation Hall 7.30 pm
Ninebarrow
Alton Arts is pleased to present Ninebarrow who are a multi-award-winning folk duo, who have been impressing audiences across the country with their innovative and captivating take on the folk tradition. Described by Mark Radcliffe as sounding 'like two halves of one voice' and by Mercury Music Prize nominee Kate Rusby as 'absolutely amazing', Jon Whitley and Jay LaBouchardiere combine breath taking vocal harmonies and melodies, delivering original songs that are inspired and rooted in the landscape and history of the British Isles. As well as crafting unique and engaging original material, Ninebarrow also take a wide-range of traditional folk songs and rework them in their own, distinctive way.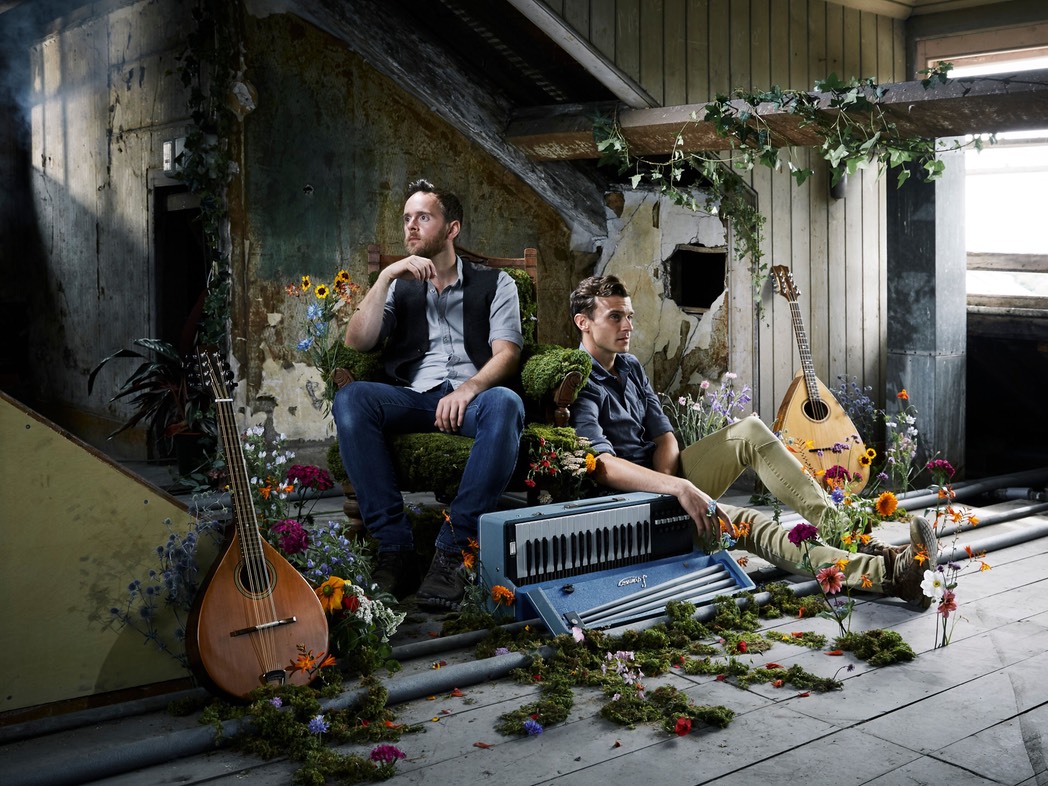 In 2017, the duo were nominated at the BBC Radio 2 Folk Awards in the 'Horizon' category for 'Best Emerging Artist'. One of the highest accolades in their genre, it was made even more exceptional because it was only a few months prior to this that Jon Whitley and Jay LaBouchardiere relinquished their jobs as a teacher and GP in favour of a full-time music career. Since then, the duo have continued their upwards trajectory, graduating to more senior award categories, most recently picking up 'Best Duo' in the 2019 Folking.com awards. 
Named after Nine Barrow Down in the Purbeck hills, their first release While the Blackthorn Burns was voted FATEA Magazine's Best Debut Album of 2014, while their last album Releasing the Leaves (2016) saw a volley of critical acclaim including five-star reviews in Maverick and EDS Magazine as well as Best Duo nominations in the FATEA and Folking.com Awards. 
Licensed bar. Tickets in advance £10.00 or £12.00 on the night