This is the Website of Alton Parish Council, comprising the three villages of Alton Barnes, Alton Priors and Honeystreet.   This website last updated 2 August 2020 
Delighted to let you all know that 
All Saints, Alton Priors 
has reopened to visitors as from 6 July 2020
and that we hope to reopen the
Coronation Hall
In late September/ October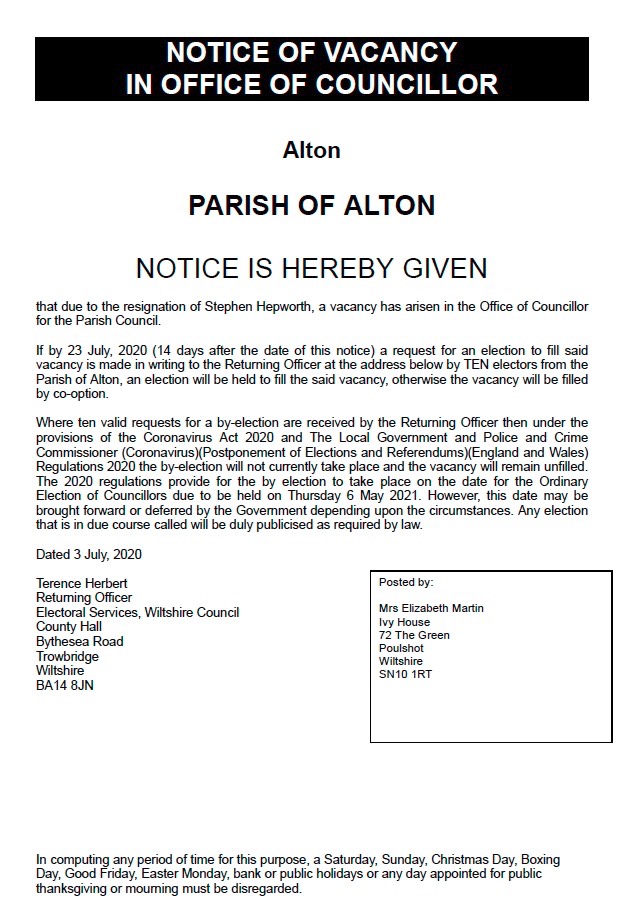 Form to request a Parish Council Election
The Bruce Boats Cares for Carers
The Coronavirus crisis has highlighted to the whole nation the value of carers, whether working in care homes or in the community. They have had little time to relax during the crisis and as front-line workers are undoubtedly facing danger.
Caring for Carers is The Bruce Boats' 
small way of saying THANK YOU. 
The Bruce Boats at Bedwyn Wharf provide holidays and day trips on the Kennet and Avon Canal for disabled, elderly, and disadvantaged people in specially designed wheelchair-friendly broad-beam canal boats. During the last 30 years, their highly trained volunteers, skippers and crew have seen at first-hand the wonderful and dedicated work of carers and have always had huge admiration and respect for their work.They are offering several sponsored FREE DAY TRIPS for carers working in care homes and day centres, and home-carers, aboard one of their specially equipped wide-beam canal boats. If you are a carer, or would like to nominate a carer, please contact them to reserve a place by emailing their bookings team at bookings@katrust.org.uk.

Each trip will cruise along the beautiful Kennet and Avon Canal in the heart of Wiltshire, gliding through peaceful countryside and stopping for lunch in a secluded spot. Trips will run alongside their usual hire programme which is restarting in August – but bookings can be made now.
Please see their website for more information about Bruce Boats, to find out where they are, to discover the unrivalled beauty of the Kennet and Avon Canal, or to explore their crewed and self-steering canal hiring opportunities: https://www.bruceboats.katrust.org.uk
Sponsor a Trip
Each trip will be sponsored. The first three trips already have sponsors, but they are seeking sponsors for future trips at a cost of around £250 per trip. If you wish to thank carers from your local care home or day centre, or a home carer, this is a perfect opportunity. To sponsor a trip please email their bookings team at bookings@katrust.org.uk.
Coronation Hall to reopen in September 
We hope to restart the Village market and Coffee Mornings soon - watch this space.
To Hire Coronation Hall email: richardheacock@mac.com