(All events at the Coronation Hall unless stated.)
Please scroll down for posters and notices to find all events.
2019

Register your email with Alton Arts for email notification of village events.
Monthly Village Coffee Mornings. 
The Next is Seed-Swap Saturday 2 February.
Special for this day only Wiltshire Bacon Butty cooked to order!  The coffee mornings are usually on the first Saturday morning of every month, in the Coronation Hall, starting at about 10.00 am to midday. 

Do come along, bring your family and friends,  and meet your neighbours, make  friends with new neighbours and generally hear the village gossip. There are always delicious cakes and things to eat.  Open to everyone and visitors are especially welcome.
Please Volunteer to help with coffee mornings.
Thursday  24 January Film Night Tickets £5.00 on the door. Licensed Bar.

Mamma Mia!  Here we go again.
Yes, this film is REALLY coming to the Altons!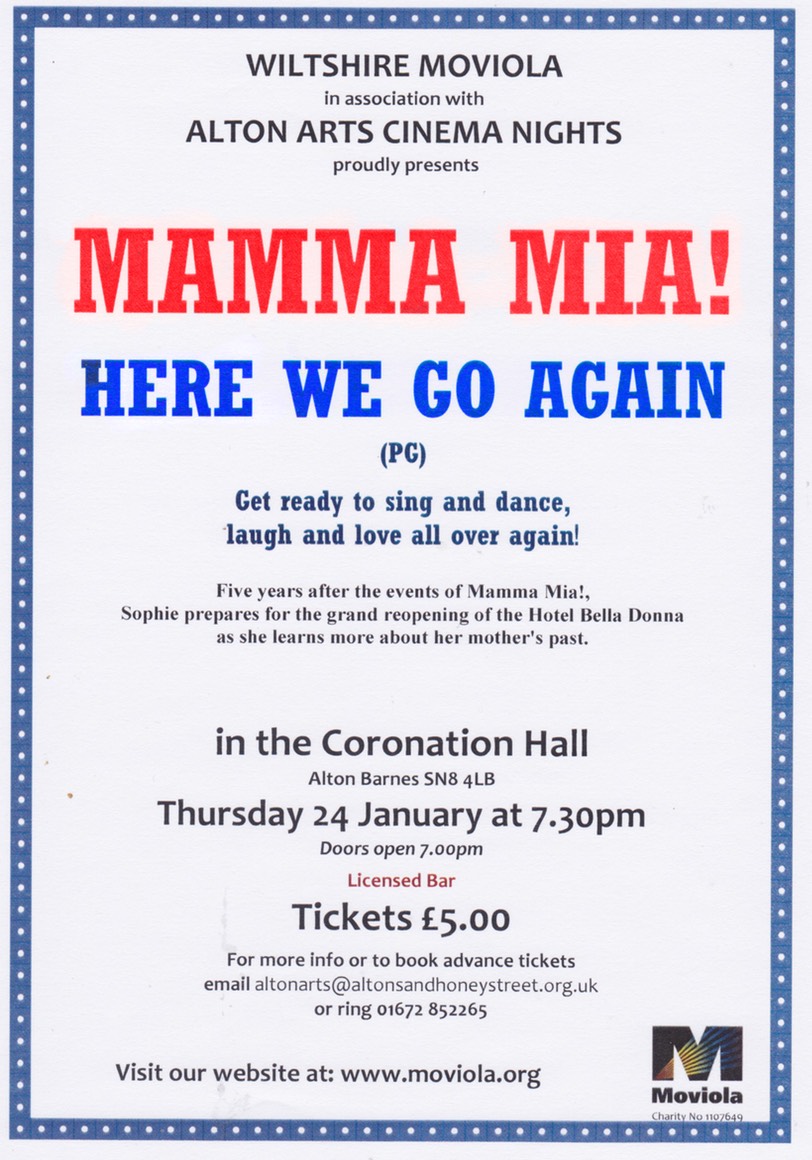 Get ready to sing and dance, laugh and love all over again!
Past and present intertwine as a pregnant Sophie (Amanda Seyfried) is busy re-launching her mother's taverna while husband Sky is away in New York.  Flashbacks transport us back in time to learn how the Dynamos came into being and how Donna (Lily James) met Sophie's three putative fathers.
"It's down to cannily cast diva Cher, playing Sophie's maternal grandmother Ruby Sheridan, to really raise the roof as she does singing Fernando in duet with her lost love (played by Andy Garcia). The moment white-wigged Cher steps out of her helicopter on the jetty in that sparkling, sun-drenched bay, she owns the movie hook, line and sinker and virtually nothing else exists. Or at least until Meryl Streep appears singing My Love, My Life in that famous cliff-top church and instantly reduces the audience to floods of tears. In a replica of The Winner Takes It All showstopper in Mamma Mia!, it's a stunningly bravura moment that will live long in the memory."  Radio Times
"To sum it up in one easy sentence: if you loved the first film, you'll certainly adore this one."  The Upcoming
Watch trailer:- https://www.imdb.com/title/tt6911608/?ref_=nv_sr_1
FRIDAY NIGHT is BINGO night on  25 January starts at 7.00 pm.

Saturday 9th February @ 7.30 is Curry Night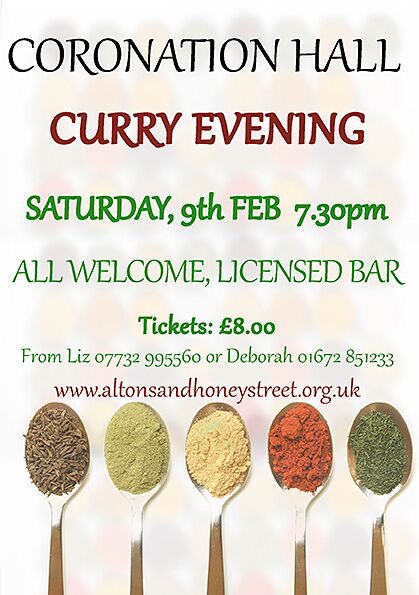 Once a year the village holds an evening when we have a selection of glourous  home made currys.   If you would like to reserve tickets and/or make a curry for the evening please contact Liz 07732 995560 or Deborah 01672 852233. Tickets are only £8.00.  We have a licenced bar serving wine and Indian beer and wine.  This is a great way to meet other people from the area.  Open to all. Tickets are limited to 50 so order now to avoid dissapointment. Any profits will go to the village hall funds.
FRIDAY NIGHT is BINGO night on 22 February starts at 7.00 pm.
Thursday  21 February  Film Night Tickets £5.00 on the door. Licensed Bar.

The Children Act
As her marriage to Jack (Stanley Tucci) flounders, eminent High Court judge Fiona Maye (Emma Thompson) has a life-changing decision to make at work - should she force a teenage boy, Adam (Fionn Whitehead), to have the blood transfusion that will save his life? Her unorthodox visit to his hospital bedside has a profound impact on them both, stirring strong new emotions in the boy and long-buried feelings in her.  From the official website
"Richard Eyre's direction is as delicate as a June morning and Thompson gives a performance that deserves a standing ovation. Forget the early days of Tutti Frutti and the fun stuff, she has emerged as Meryl Streep's equal at the top of the actors' pinnacle." Eye for Film
"It's a remarkable, literate, nuanced film, which refuses to play to the gallery but, like the Bach keyboard music on its soundtrack, finds palpable emotion lurking just below a seemingly ordered surface."  Radio Times
Watch Trailer:- 
https://www.imdb.com/title/tt6040662/?ref_=nv_sr_1
Saturday 9th March @ 7.30 pm.
Call my Bluff Wine Tasting
Call My Wine Bluff is a hugely entertaining show pitting the wits, wine knowledge and intuition of the audience against the lying, devious and cheating expertise of the panel.
With none of the pomp and ceremony usually associated with wine tasting Call My Bluff Wine Tasting is an opportunity to taste (and drink!) 6 wines in a competitive atmosphere. Its the games when you "Think while you drink"
Call My Bluff Wine Tasting is a game of 6 rounds when our audience of up to 60 people divided into tables of 8 or 10. Each member of the audience is served a glass of wine from a covered label bottle of wine -  so there is no opportunity to see what is being served.. The panel of 3 each gives an amusing, informative and highly convincing description of the wine being drunk. Two of the panel are unashamedly lying through their teeth whilst the other is telling the truth. The table teams have to decide which of the panel is innocent of such deception. 5 points are awarded for guessing the correct wine and bonus points can be picked up for guessing the retail price.
Three white wines will be served followed by a short supper interval of a bread and cheese supper, which will be followed by the tasting of three red wines to enjoy with the rest of the cheese.  
As the rounds progess the audience, by this time enjoying the effect of the wine, are no longer basing their decisions on cold logic or sound knowledge. Instead they are beginning to realise how difficult it can be to identify the right wine.
Tickets £10.00 to include all wine and a bread & cheese supper.  Please click here to book in advance. Contact Robert on telephone:- 852265
Thursday  21 March  Film Night Tickets £5.00 on the door. Licensed Bar.

A Star is Born
In this new take on the iconic love story, four-time Oscar nominee Bradley Cooper makes his directorial debut, and also stars alongside award-winning, Oscar-nominated music superstar Lady Gaga in her first leading role in a major motion picture.  Cooper portrays seasoned musician Jackson Maine, who discovers and falls in love with struggling artist Ally.  She has given up on her dream to become a successful singer, until she meets Jack, who immediately sees her natural talent.  Theirs is a complex journey through the beauty and the heartbreak of a relationship struggling to survive.  From the official website
"This latest and fourth version is a gorgeous heartbreaker (bring tissues). Like its finest antecedents, it wrings tears from its romance and thrills from a steadfast belief in old-fashioned, big-feeling cinema. That it's also a perverse fantasy about men, women, love and sacrifice makes it all the better."  New York Times
"In his impressive directing debut, Bradley Cooper and the luminous Lady Gaga soar as they catapult the film high into a sphere of contrasts, where life's extremes are on show. Electric, compelling and tender, the film is a knockout creatively and emotionally, offering a raw glimpse into today's world of celebrity."  Urban Cinefile
"An assured rehash it may be, but it's one that's surprisingly slick, emotionally affecting and packing a final unexpectedly meaningful punch."  Radio Times
Watch Trailer:- https://www.imdb.com/title/tt1517451/?ref_=nv_sr_1
FRIDAY NIGHT is BINGO night on 29 March starts at 7.00 pm.