(All events at the Coronation Hall unless stated.)
Please scroll down for posters and notices to find all events.
Register your email with Alton Arts for email notification of village events.
Monthly Village Coffee Mornings. The Next is Saturday 3 November.
The coffee mornings are usually on the first Saturday morning of every month, in the Coronation Hall, starting at about 10.00 am to midday. 
Next Saturday Coffee Mornings for 2018 are:- 3 November, 1 December.
Do come along, bring your family and friends,  and meet your neighbours, make  friends with new neighbours and generally hear the village gossip. There are always delicious cakes and things to eat.  Open to everyone and visitors are especially welcome..
Pewsey Vale Railway Society
Tuesday 11 September at 7.45
Roger Hardingham on The Barry Scrapyard Story
Tuesday 23 October Film Night  Tickets £5.00 on the door. Licensed Bar.
Lady Bird.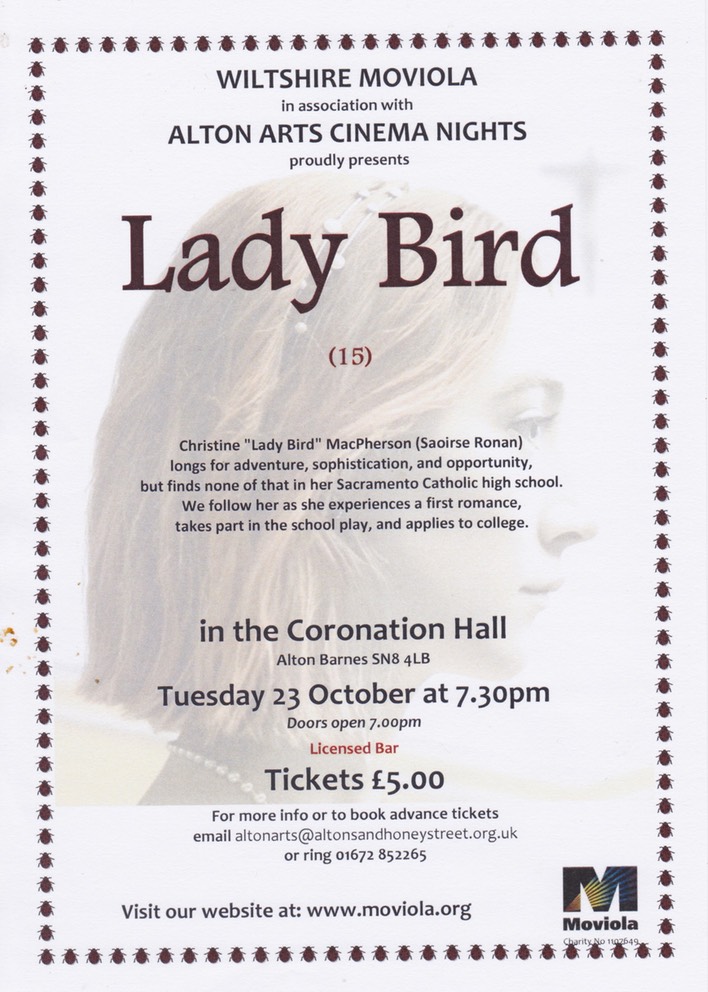 Christine "Lady Bird" MacPherson (Saoirse Ronan) is a high school senior from the "wrong side of the tracks." She longs for adventure, sophistication, and opportunity, but finds none of that in her Sacramento Catholic high school. Lady Bird charts her senior year in high school, including her first romance, her participation in the school play, and most importantly, her applying for college.
"In her first solo writing and directing effort, the hard-working indie film actress Greta Gerwig proves that she is her own muse. She takes the well-worn coming-of-age-dramedy format and fashions something fresh, funny, and artful from its familiar tropes."  Austin Chronicle
"Scripted by Gerwig with a deft balance of laudable wit and authentic angst, the film brilliantly depicts the adolescent tendency to rail against everything and anything, and it's remarkable how heartfelt each and every moment feels, without the film once descending into sentimentality. Both that and Gerwig's refusal to tie things up in a neat movie bow are a satisfying nod to its true-life origins. This is a loveable, colourful and largely convention-defying portrait of an endearing eccentric who, despite her protestations, holds her hometown dearer than she realises."  Radio Times
Watch Trailer:- http://www.imdb.com/title/tt4925292/?ref_=nv_sr_1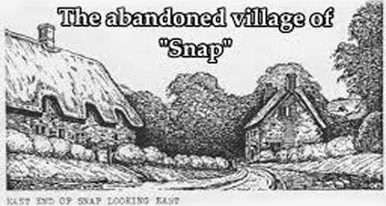 Thursday 25 October at 7.30. pm.
John Dymond on history of this community near Aldbourne - The  Lost Wiltshire village of Snap. History of the community from 1200s to its abandonment in early 20th century. Order tickets for Alton Talks
Saturday 27 October  Tickets £10.00 in advance, or £12.00 on the door. 
Click here to order tickets for Nick Harper 
Nick Harper  Singer songwriter
Alton Arts presents Nick Harper when he will be performing his magical  "A Wiltshire Tale: There Is Magic In This World".  All interested in Wiltshire history and tradition should not miss this event. 

Son of the legendary UK singer-songwriter Roy Harper, Nick was born in London and raised in Wiltshire. Having played the guitar from the age of 10 and surrounded by the likes of Keith Moon, Jimmy Page, Robert Plant and Dave Gilmour as he grew up, it was no surprise when Nick made his recording debut on his father's Whatever Happened to Jugula? in 1985.
Nick's talent and energy entranced Roy's fans and it was inevitable that he would begin touring and recording in his own right. The 1994 EP Light at the End of the Kennel was swiftly followed by his powerful 1995 debut long player Seed prompting The Independent to describe him as "hugely talented".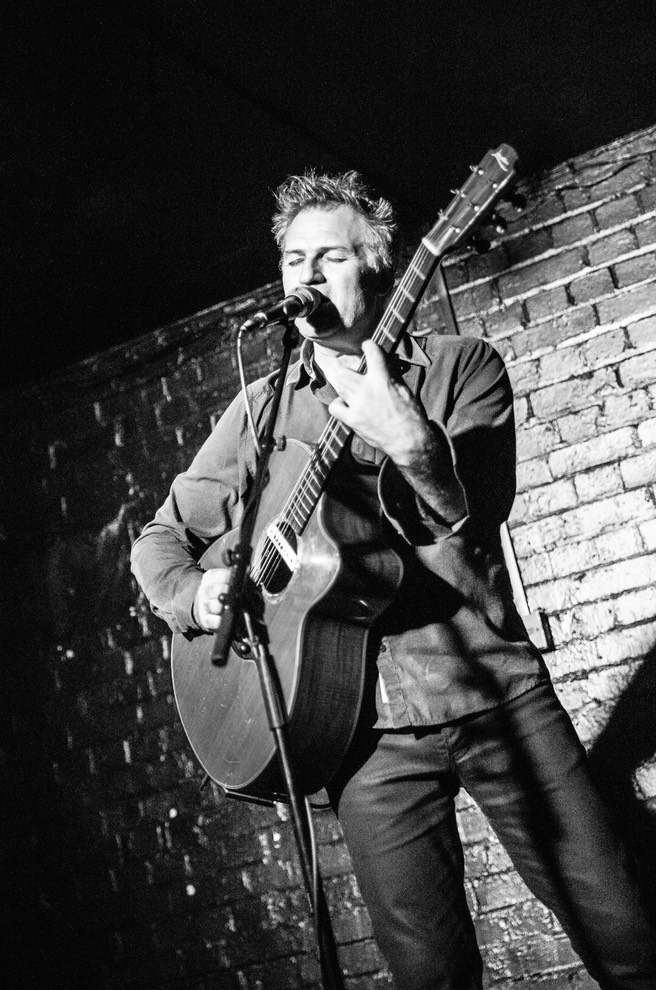 In 1996 Nick met Squeeze frontman and songwriter Glenn Tilbrook. Tilbrook was so impressed that he offered Nick a job playing with and supporting Squeeze and promptly signed Nick to his own label, Quixotic Records. Following tours in the UK, USA and Japan, Nick recorded the 1998 album Smithereens with Tilbrook as producer. This album and subsequent 40 date solo tour, including dates in New York and Glastonbury, confirmed Nick as a formidable talent in his own right. "If imagination, energy and bags of talent were the only factors in making a successful pop career, few would deny that Squeeze man Glenn Tilbrook has backed a winner in Nick Harper…Splendid stuff" – MOJO magazine. He teamed up with Tilbrook again on 2000's highly acclaimed album Harperspace. This is the album that confirmed his position at the forefront of a new generation of British Acoustic Performers. "Nick Harper has a quality that stands head and shoulders above anything else you are likely to encounter… The Verse Time Forgot from the new album 'Harperspace' is as close to a perfect song as you are likely to get." (Edinburgh Evening News)
To call Nick a superlative singer/songwriter could put his highly lauded guitar talent in the shade, and to call him a guitarist's guitarist might slight his distinctive, soulful voice and passionate songs. Not forgetting the wild ride that is one of his live shows – from personal introspection to biting political satire via a charmingly caustic wit that would make Groucho Marx proud. He often segues from his own compositions to well-loved covers he makes his own – he takes on Presley, Zappa, Jeff Buckley, Led Zeppelin, Monty Python, Pink Floyd and Public Enemy (yes, on an acoustic guitar). He also has the alarming ability to break guitar strings almost by sheer force of will… and then change them without dropping a beat. For over a decade, he has been dazzling audiences and reviewers alike with this heady mix of virtuosity, boyish charm, showmanship and sheer bravado. His talent and showmanship were recognised in 2003 with a (Glasgow) Herald Fringe Angel award for excellence in live music during his Edinburgh Festival run. "Harper has so much musicianship in him that it just leaks out all over the place." (The Times)
Tickets £10.00 in advance, or £12.00 on the door.
Bookings:- Please send a stamped and self addressed envelope, together with a cheque for the correct amount made out to 'Alton Barnes Coronation Hall' and post to:- Box Office, Alton Arts, End Cottage Honeystreet SN9 5PS.
email:- altonarts@altonsandhoneystreet.org.uk  Reservations made by email will be kept till 7.00 pm. on the day,  and then released for sale if not collected or fully paid.  Telephone 01672 852265  Click here to order tickets for Nick Harper 
Nationwide ringing of Bells on November 11 at St Marys.
If anyone wants to join us they should come to St Marys from 2 pm onwards. Anyone who has never rung before will need a brief lesson
and should contact Eddie on etmesmith@gmail.com and have a go on Sunday 21 October at 10.30 am.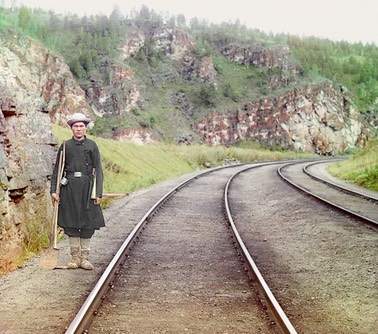 Pewsey Vale Railway Society
Awaiting details of next event. 
At Woodborough Social Club SN9 5PL. Non-members welcome, admission £3.
Next Meeting:- Tuesday 13th November
Speaker Christian Wolmar - The Trans-Siberian Railway
Pewsey Heritage Centre. 
'Railways through the Vale of Pewsey'
Wednesday 21st November 7.30pm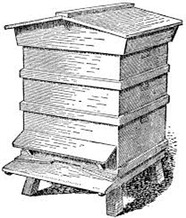 Thursday 22 November at 7.30.pm.
Local Honeystreet Beekeeper Robert Carpenter Turner on the Goings on in a Beehive.  A talk for those who have never kept bees but wish to know how it is done.  Some Honey tasting will be part of the evening. Order tickets for Alton Talks
Tuesday  27 November. Film Night Tickets £5.00 on the door. Licensed Bar.
The Happy Prince
Starring Rupert Everett, who also wrote and directed it, this is the story of the last days of Oscar Wilde.  Released from Reading Gaol, he leaves England never to return and wanders around Europe penniless and ill.
"In The Happy Prince Everett not only steps into the shoes of the Victorian writer and raconteur but makes his writing and directing debut. The result is a mixed bag, as while Everett the actor masterfully evokes the mournful mix of decadence and decay of the last years of Wilde, Everett the filmmaker is, like so many before him, too much in love with the brilliant old rogue for his own good."  Eye for Film
"This poignant dramatisation of Wilde's final years in exile is a powerful parable of passion and redemption."  The Guardian
"Who knew that Rupert Everett had it in him? The 58-year-old actor and writer, who made a big splash in the 1980s with Another Country and Dance with a Stranger, and has seemingly teetered on the brink of oblivion ever since (ill-advised pop career, gossipy memoirs, public meltdown on Celebrity Apprentice), has produced an 11th-hour masterpiece in The Happy Prince."  The Times
Watch trailer:- https://www.imdb.com/title/tt2404639/?ref_=nv_sr_1
Friday 7 December at 7.00
Christmas Bingo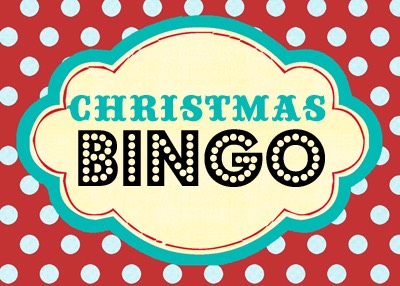 Lots of  Prizes, Big Christmas Bingo. Fun for all the family. 

Village Christmas Party 9 December   Full details to follow