(All events at the Coronation Hall unless stated.)
Please scroll down for posters and notices to find all events.
Register your email with Alton Arts for email notification of village events.
Monthly Village Coffee Mornings. The Next is  Saturday 7 July.
The coffee mornings are usually on the first Saturday morning of every month, in the Coronation Hall, starting at about 10.00 am to midday. However on some occasions this has to be changed because of another event. 
Saturday Coffee Mornings for 2018 are:- 7 July, 4 August, 1 September, 6 October, 3 November, 1 December.
Do come along, bring your family and friends,  and meet your neighbours, make  friends with new neighbours and generally hear the village gossip. There are always delicious cakes and things to eat.  Open to everyone in the parish. Visitors are especially welcome.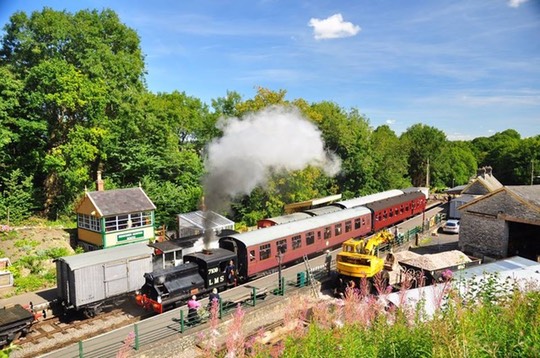 Pewsey Vale Railway Society
Tuesday 12 June 19.45 pm. 
At Woodborough Social Club SN9 5PL. Non-members welcome, admission £3.
Speaker: John Baxter on 
The preserved Somerset and Dorset Joint Railway.
.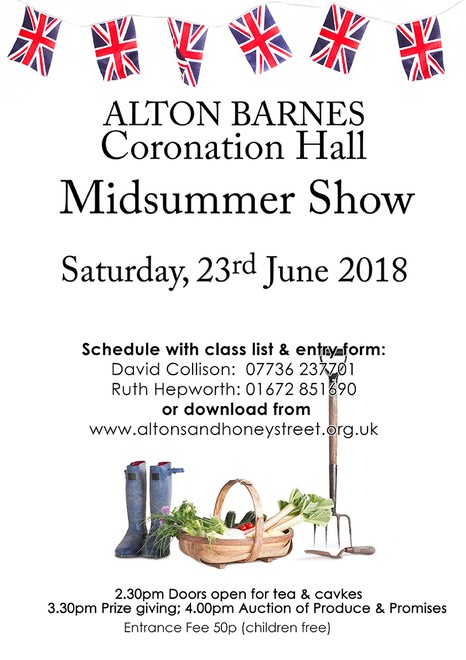 Midsummer Show
Saturday 23 June at the Coronation Hall
Flowers, Fruit, Vegetables, Baking/Preserves, Crafts, Photography and Floral Art.


Full downloadable details below - just click on the line you want.       
Schedule and Entry Form
Timetable
Rules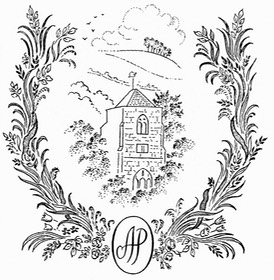 Music for Awhile Festival 
Summer Festival Saturday 7 & Sunday 8 July
Full details and booking form click here 
July 7th 19.00      An Evening of music by the ever-popular Handel.  Featuring his mini-opera Apollo e Daphne, a touching tale of love and loss. Also in the programme will be opera arias and some of his most glorious instrumental music. (Ticket ad booking form)

July 8th 16.00      Continuing our Bach on a Sunday afternoon  series. This year's offering is one of his Lutheran Mass with the 2nd suite for orchestra (the piece with the famous virtuosic Badinerie for flute). The concert will begin with movements of unaccompanied Bach from the four corners of the church. This concert is sponsored but the Cecil King Foundation  -  absolutely all ticket sales go directly to the Alton Priors Roof Fund. (Click here for Booking Form)
Alton Talks
Full details will follow shortly. On 27 September we have David Jacques on the Mesolithic Blick Mead a chalk land spring a mile from Stonehenge. Then on 25 October John Dymond on the lost Wiltshire village of Snap.  On 22 November we have local Honeystreet beekeeper Robert Carpenter Turner giving a talk called Goings on in the Beehive.  Full ticket details to follow later.
Friday 28 September 

Music For Awhile presents the London Haydn Quartet
Tickets and all details to follow.
One of the world's leading period instrument string quartets, The London Haydn Quartet was born out of a passion for Haydn. Founded in 2000 the quartet has received invitations to many of the most important concert series in UK, USA, Canada, The Netherlands, Belgium, France, Germany, Spain, Switzerland and Japan.
The London Haydn Quartet's series of recordings of the complete Haydn quartets on the Hyperion label (op 9, op 17, op 20, op 33, op 50 and op 54/55 quartets released to date) has met with international critical acclaim.
The quartet has given many recitals at venues such as London's Wigmore Hall, The Concertgebouw in Amsterdam, New York's Carnegie Hall, Yamaha and Asahi Halls in Tokyo, the Sydney Opera House and at festivals including Cheltenham, Utrecht, Esterhaza, Bath Mozartfest, Lyon and Granada.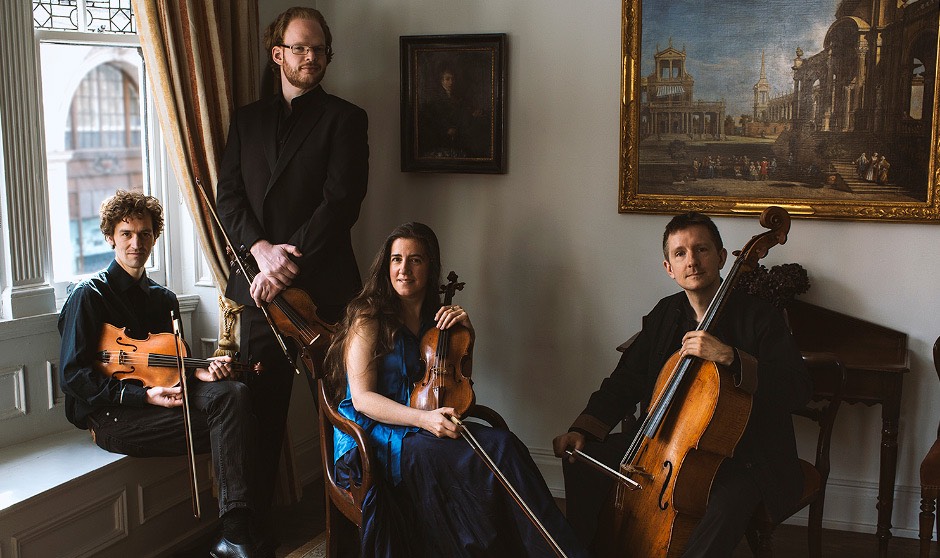 Saturday 27 October (Tickets details to be confirmed) 
Nick Harper  Singer songwriter
Alton Arts presents Nick Harper when he will be performing his magical  "A Wiltshire Tale: There Is Magic In This World".  All interested in Wiltshire history and tradition should not miss this event. 

Son of the legendary UK singer-songwriter Roy Harper, Nick was born in London and raised in Wiltshire. Having played the guitar from the age of 10 and surrounded by the likes of Keith Moon, Jimmy Page, Robert Plant and Dave Gilmour as he grew up, it was no surprise when Nick made his recording debut on his father's Whatever Happened to Jugula? in 1985.
Nick's talent and energy entranced Roy's fans and it was inevitable that he would begin touring and recording in his own right. The 1994 EP Light at the End of the Kennel was swiftly followed by his powerful 1995 debut long player Seed prompting The Independent to describe him as "hugely talented".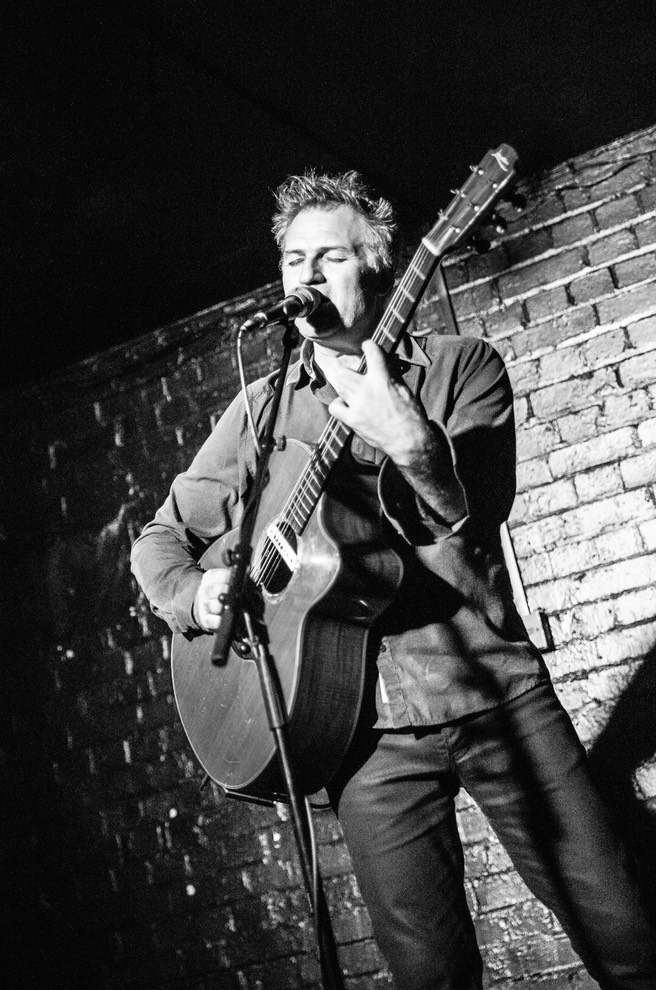 In 1996 Nick met Squeeze frontman and songwriter Glenn Tilbrook. Tilbrook was so impressed that he offered Nick a job playing with and supporting Squeeze and promptly signed Nick to his own label, Quixotic Records. Following tours in the UK, USA and Japan, Nick recorded the 1998 album Smithereens with Tilbrook as producer. This album and subsequent 40 date solo tour, including dates in New York and Glastonbury, confirmed Nick as a formidable talent in his own right. "If imagination, energy and bags of talent were the only factors in making a successful pop career, few would deny that Squeeze man Glenn Tilbrook has backed a winner in Nick Harper…Splendid stuff" – MOJO magazine. He teamed up with Tilbrook again on 2000's highly acclaimed album Harperspace. This is the album that confirmed his position at the forefront of a new generation of British Acoustic Performers. "Nick Harper has a quality that stands head and shoulders above anything else you are likely to encounter… The Verse Time Forgot from the new album 'Harperspace' is as close to a perfect song as you are likely to get." (Edinburgh Evening News)
To call Nick a superlative singer/songwriter could put his highly lauded guitar talent in the shade, and to call him a guitarist's guitarist might slight his distinctive, soulful voice and passionate songs. Not forgetting the wild ride that is one of his live shows – from personal introspection to biting political satire via a charmingly caustic wit that would make Groucho Marx proud. He often segues from his own compositions to well-loved covers he makes his own – he takes on Presley, Zappa, Jeff Buckley, Led Zeppelin, Monty Python, Pink Floyd and Public Enemy (yes, on an acoustic guitar). He also has the alarming ability to break guitar strings almost by sheer force of will… and then change them without dropping a beat. For over a decade, he has been dazzling audiences and reviewers alike with this heady mix of virtuosity, boyish charm, showmanship and sheer bravado. His talent and showmanship were recognised in 2003 with a (Glasgow) Herald Fringe Angel award for excellence in live music during his Edinburgh Festival run. "Harper has so much musicianship in him that it just leaks out all over the place." (The Times)
Village Christmas Festivities
8 or 9 December.  Full details to follow