(All events at the Coronation Hall unless stated.)
Please scroll down for posters and notices to find all events.
Register your email with Alton Arts for email notification of village events.
Monthly Village Coffee Mornings. 
Saturday 6 April.
The coffee mornings are usually on the first Saturday morning of every month, in the Coronation Hall, starting at about 10.00 am to midday. 
Call my Bluff Wine Tasting  -Saturday 9th March @ 7.30 pm.
Sadly CANCELLED due to lack of support!
Friday 15th  March (note at Kennet Valley Hall) 
One Thousand Years of Wolfhall

Thursday  21 March  Film Night Tickets £5.00 on the door. Licensed Bar.
Book in advance by email:-   Click to Book Tickets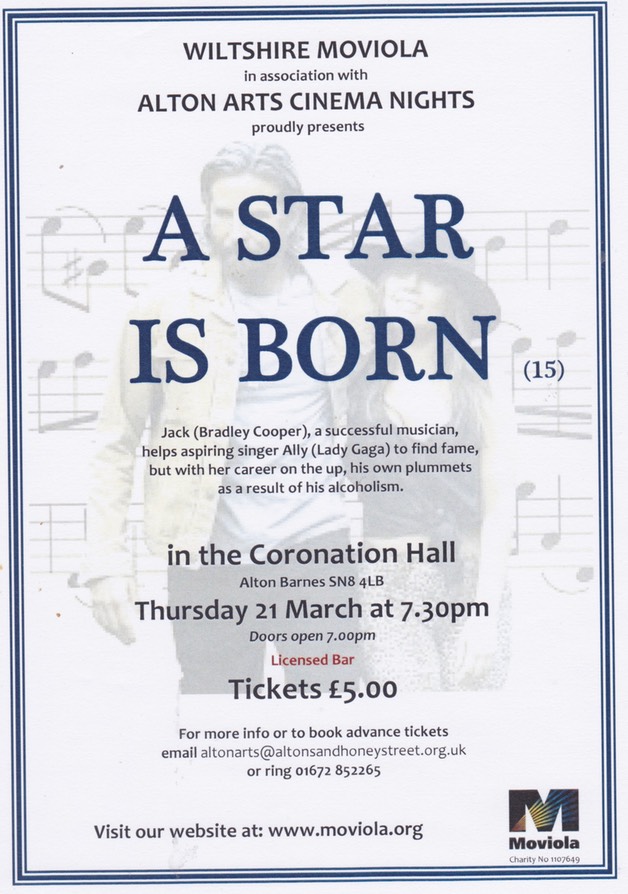 A Star is Born
In this new take on the iconic love story, four-time Oscar nominee Bradley Cooper makes his directorial debut, and also stars alongside award-winning, Oscar-nominated music superstar Lady Gaga in her first leading role in a major motion picture.  Cooper portrays seasoned musician Jackson Maine, who discovers and falls in love with struggling artist Ally.  She has given up on her dream to become a successful singer, until she meets Jack, who immediately sees her natural talent.  Theirs is a complex journey through the beauty and the heartbreak of a relationship struggling to survive.  From the official website
"This latest and fourth version is a gorgeous heartbreaker (bring tissues). Like its finest antecedents, it wrings tears from its romance and thrills from a steadfast belief in old-fashioned, big-feeling cinema. That it's also a perverse fantasy about men, women, love and sacrifice makes it all the better."  New York Times
"In his impressive directing debut, Bradley Cooper and the luminous Lady Gaga soar as they catapult the film high into a sphere of contrasts, where life's extremes are on show. Electric, compelling and tender, the film is a knockout creatively and emotionally, offering a raw glimpse into today's world of celebrity."  Urban Cinefile
"An assured rehash it may be, but it's one that's surprisingly slick, emotionally affecting and packing a final unexpectedly meaningful punch."  Radio Times
Watch Trailer:- https://www.imdb.com/title/tt1517451/?ref_=nv_sr_1
Film night Tickets £5.00 on the door. Licensed Bar. 
Book in advance by email:-   Click to Book Tickets  

FRIDAY NIGHT is BINGO night on 29 March starts at 7.00 pm.

Music for Awhile 24th Summer Festival 6th and 7th July
All Saint's Church, Alton Priors
July 6th 7.00 full details to follow 
July 7th 4.00  'Bach in the afternoon'  including the wonderful wedding cantata O Holder Tag sung by Julia Doyle  http://juliadoylesoprano.com  with the Music for Awhile ensemble directed by Festival Director:-  Maggie Faultless
Tickets from John MacAuslan at email:- j.macauslan@btinternet.com