This is the Website of Alton Parish Council, comprising the three villages of Alton Barnes, Alton Priors and Honeystreet.   This website last updated 16 October 2018
Honeystreeters! Our Village Design Statement is being updated. For details and to contribute YOUR views click here
Monthly Village Coffee Mornings. The Next is Saturday 3 November.
Do come along, bring your family and friends,  and meet your neighbours, make  friends with new neighbours and generally hear the village gossip. There are always delicious cakes and things to eat.  Open to everyone and visitors are especially welcome.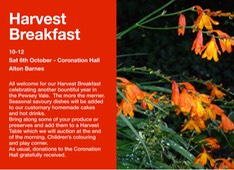 Cogratulation to the team doing the Saturday  Harvest breakfast. It raised £201.00
* * * *
Tuesday 23 October Film Night  Tickets £5.00 on the door. Licensed Bar.
Next Film                Lady Bird 
Saturday 27 October
Don't miss
A Wiltshire Tale
 Nationwide ringing of Bells on November 11 at St Marys.
If anyone wants to join us they should come to St Marys from 2 pm onwards. Anyone who has never rung before will need a brief lesson and should contact Eddie on etmesmith@gmail.com and have a go on Sunday 21 October at 10.30 am.
Friday 7 December at 7.00
Coronation Hall
The Big Christmas Bingo
Don't forget to visit the new